Best Pool & Spa Builders South Sydney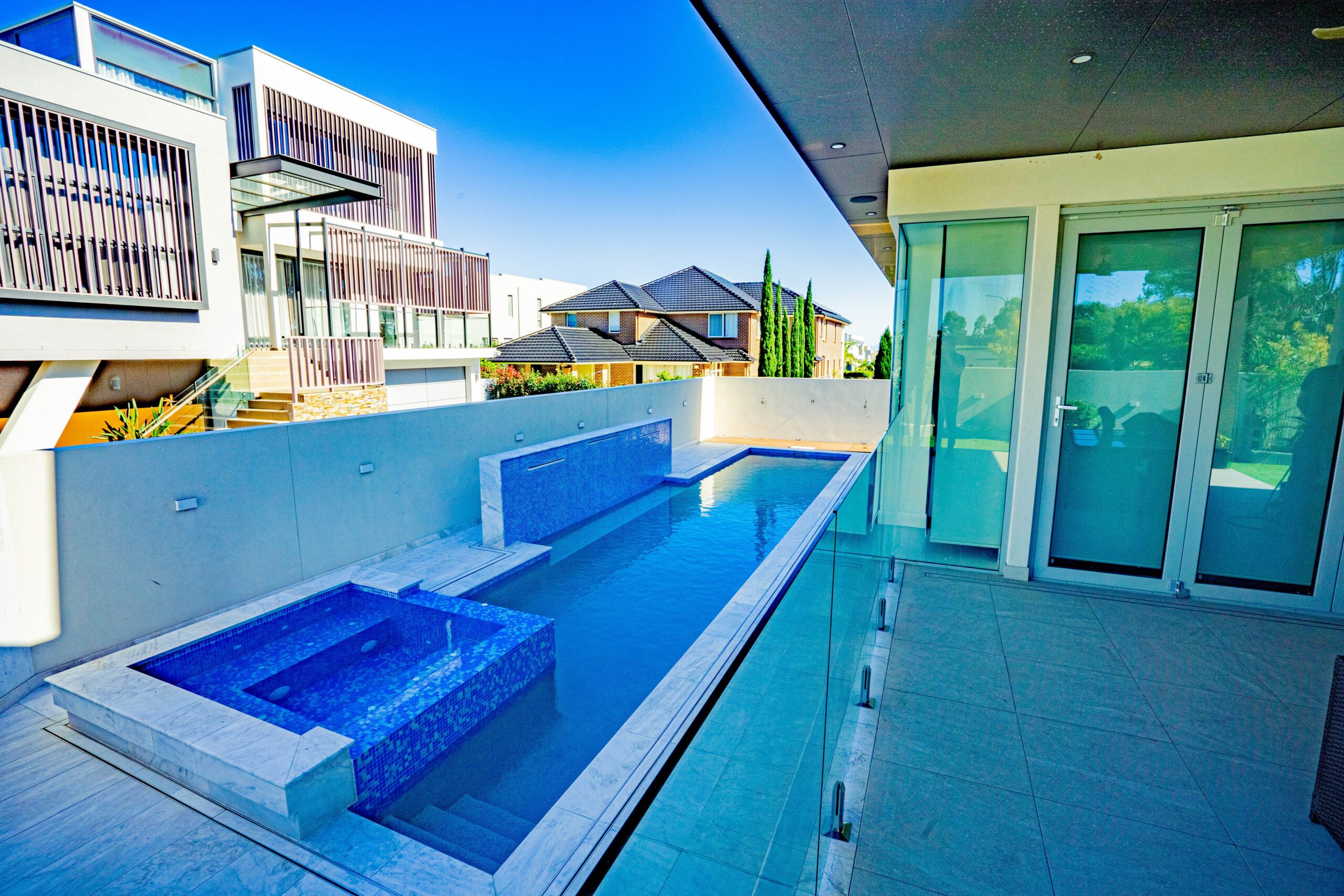 #1 Swimming Pool Builder in the South Sydney
Aroona Pools and Spas are experienced custom pool builders in South West Sydney and can design, build and install concrete pools and spas in your backyard.
When you have a small or difficult shaped backyard, you need an experienced swimming pool builder in South West Sydney, so that you can have a beautiful pool that exactly suits your available space, your budget and your family's needs.
Professional Pool & Spa Builder in South Sydney
As professional pool builders in South West Sydney, our specialists have years of experience and we can build you a brand new concrete swimming pool and spa that perfectly suits your lifestyle and will give you years of pleasure and enjoyment.
At Aroona Pools and Spas we also provide exceptional swimming pool renovations in South West Sydney, fixing problems with the coping, repairing cracks, and rust stains in concrete pools.
A pool and spa in South West Sydney is a very popular choice for many of our clients, who want the best of both worlds with a pool to play in or swim laps, and a heated spa to relax in after work.
For the best swimming pool contractors in South West Sydney, call Aroona Pools and Spas Leading swimming pool/spa builders Sydney on 02-9460 0737, email us at info@aroonapools.com.au or complete our online enquiry form.
Trustworthy Builders for Your Swimming Pool Installation in South Sydney
Your swimming pool is a project you should consider carefully before hiring builders to install it for you. When you're looking at your options for pool installation in South Sydney, you'll want to be extra careful to make sure the swimming pool builders you hire are honest, straightforward, hardworking, and professional. Many people in South Sydney count on their swimming pools to provide them with comfort and relaxation whenever the weather gets hot, and they have a little bit of downtime. For this to be a truly effective form of recreation, though, your pool needs always to serve you well. A pool should be for swimming, not constant maintenance and repair. The right swimming pool builders in South Sydney should be able to set you up with a pool that runs efficiently so that you don't always have to be taking care of it.
Deal One on One with Your Case Manager
When you're working with professional builders, it's important that you're always able to contact them and provide feedback. It's also important that your builders can get a hold of you so that they can check in with you about their progress, make suggestions, and ask questions to help them clarify the best way to continue working. That's why Aroona Pools lets you deal directly with the case manager for your build. You get an open line of communication to the person overseeing your pool so that, between us, we can account for every single detail. That's how we like to work.
The Benefits of In-Ground Pool Installation in South Sydney and How the Pool Builders Can Help

Now that the summer has just arrived, you might be thinking of ways to improve your home. Your home is your prized possession, not to mention it's the most valuable thing you own. You work tirelessly almost every day of the week to pay your mortgage and the bills, so you deserve to have a property that you love. As fashion trends change along with your personal preferences, it's good to give your home a makeover from time to time. Unfortunately, because of how quickly styles come and go, it's not always easy to create a South Sydney home you'll love for years. However, you only need to have an in-ground swimming pool installed once to create a yard that will luxurious for decades.
The pool builders in South Sydney exist to help you create the perfect in-ground swimming pool for your garden, and as long as you utilise an experienced company, you can feel confident that your yard will perfectly match your home. Pool builders have worked with a diverse range of properties, meaning they can design a fantastic pool for your garden no matter what its shape or size. Additionally, they'll make sure the installation is completed to a high standard as quickly as possible so that you can take advantage of the hot summer weather.
At Aroona Pools, our pool builders have worked with thousands of homeowners in South Sydney beyond, and they know all about the latest designs and building techniques. We're here to offer professional advice to ensure you and your family will love your pool for decades. From the design process, all the way to the installation, we'll include you in every step to ensure your pool exceeds your expectations. Keep reading below to find out why having a swimming pool installation in South Sydney is becoming increasingly popular.
Why Should You Buy an In-Ground Pool in South Sydney?
Needless to say, you'll no doubt be looking forward to spending time on the beach during the summer, but it's nice to be able to relax in the privacy of your own garden. Here's why you might want to improve your garden by having a swimming pool installed:
Swimming is good exercise – While we all understand the importance of swimming, we don't always have the chance to head to the gym. However, you'll be able to fit a swimming session in whenever you please if you have a pool in your garden.
Boost your garden's image – Even when you're not swimming, you'll love relaxing in the sun next to a luxurious pool. You could have a pool that takes up most of your garden space, or you could have a pool that takes up a small portion.
Increase your property's value – If you ever intend to sell your home, you can feel confident that a swimming pool will serve to entice higher offers from property hunters.
Create Your Dream Home
At Aroona Pools, we want to help you make your home as inviting and relaxing as possible, and we can design a pool that will compliment your home's appearance. Contact us today to speak to one of our friendly professionals about what our experienced pool builders can help you accomplish.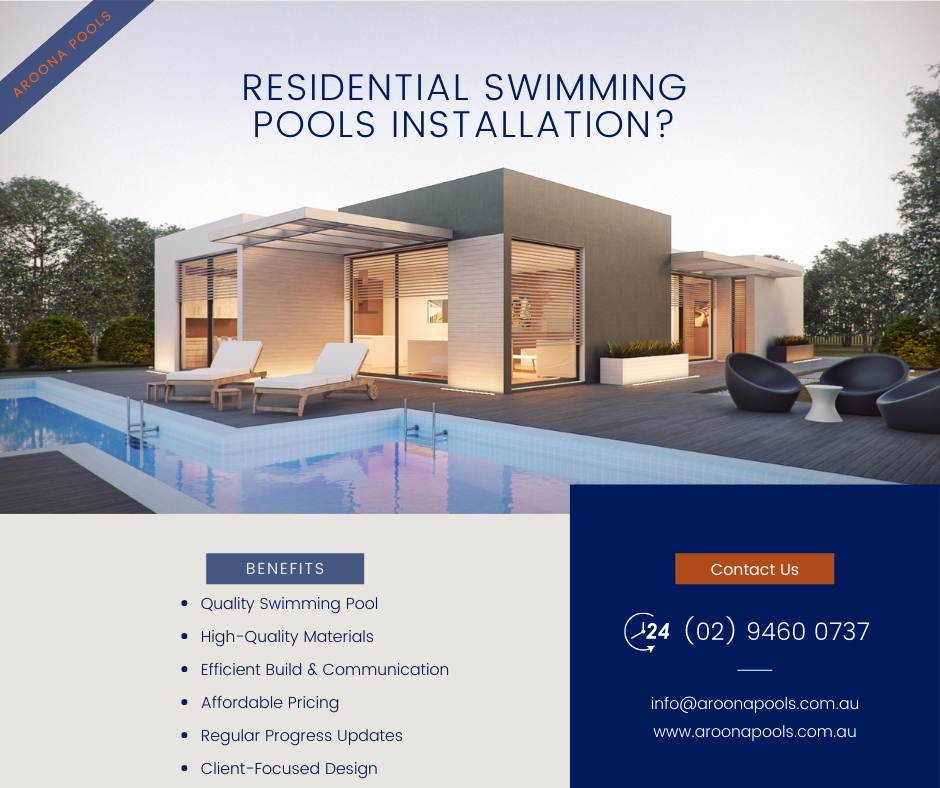 Market Area
Upper North Shore
Lower North Shore